Message of the moment (March 22, 2007):
We are well into this 7th year of the new millenium and it still feels more like the past than the future. The promises of new technologies making our lives better remain mostly unfulfilled.

For sure, things have become faster and smaller and there are more ways to communicate and more forms of media with more pixels and higher speed than ever before. But there seems to be less free time to spend enjoying all of it.
---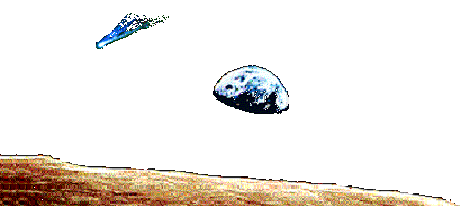 Is this a rising or setting Earth?
---
A little more than eight years ago was when the biggest change in my life took place - marrying the love of my life.
We actually had two weddings. The first wedding took place on September 13th, 1997 in cyber-space using a graphical, internet chat program called The Palace. We were virtually surrounded by many of the friends we had made at the Finch Nest and The Gardens palace servers (or chat rooms). (That's me, "kaboodle" and my lovely bride, "~kat~").
The second wedding took place in normal (but still wonderful) three-dimensional space at our home on Saturday night, September 20th, 1997.
My cats, Thai Chat & Mingus, have passed
but their WEB page remains as a memorial.
More recent arrivals,
Meisha and Jon Li.
Even more recently, Rajha, Piper
and the saga of the Malakettes.
Cuter than a button, all sugar and spice. Nieces, Paula

and Jennifer

A guitar hero

and his music

(~247K) and his wine cooler.

And here's a sample of my music (~421K). More samples are available at Studio Dust Music.

The work at

offers interesting engineering challenges.

The art of Nina Magil Hausner.

Something for the memory of Alan Hausner.
Please visit

World Lynx. A network of friends concerned about the Eurasion Lynx and endangered species, world-wide.
Visit the sound museum (still under construction and over budget).
In 2005, our wood deck was replaced with a concrete patio in this outdoor transformation
I keep some interesting links in my closet along with other miscellaneous items (updated 7/5/99).
---
I hope you enjoy your visit. You are the
'th guest.

Created on Unix with vi and MacOS with Photoshop.
Comments to: Floyd Miller