In August of 2001 our family was joined by Meisha and Jon Li. They are Korats, a breed from Thailand.


Meisha was 1 1/2 years old and Jon Li was almost 5 months old.

It was sometimes hard to tell them apart at first but Jon Li has grown quite a lot in a short time.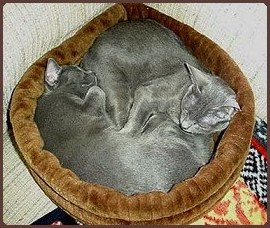 There was a lot to get used to in their new home, with two new cats, and a dog besides two new humans.

They seemed quite content to stay together in their "safe place" getting used to new surroundings just a little at a time.